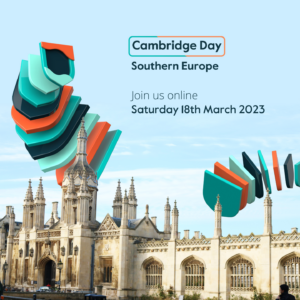 We are delighted to invite you to
Cambridge Day Southern Europe 2023!
Join Cambridge for an illuminating programme of talks from international authors and ELT experts. Our online conference is aimed at teachers of both Primary & Secondary students.
This online conference is free of charge and you will receive a Cambridge certificate of attendance afterwards.
For information on the agenda and details about the illustrious speakers, please click the button below. The link will also allow you to register for the event.
We look forward to seeing you there!